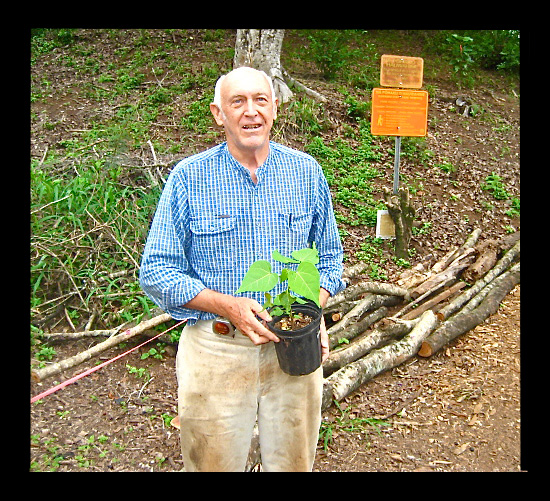 Jim Whitaker, one of the most active caretakers at Nā Pōhaku o Hauwahine and an NPEG member, died January 27, 2011 of complications following surgery. Jim's singular passion at Nā Pōhaku o Hauwahine was to see a forest recreated on the site. He dedicated his energies to removing the non-native trees (especially koa haole) and planting milo, kou, koa, hala, and other native trees that he grew from seed at his home in Kailua. He regularly monitored the growth of many of the trees he planted—data we hope to someday include at this website.
Jim was instrumental in enhancing the social atmosphere among the NPEG members and guests, who regularly joined his informal "Saturday lunch on the hill" program. Participants discussed anything and everything, in a relaxing break from the hard work of weeding and tree cutting.
Jim expressed on at least one occassion that he did not want to see a memorial at the site in his honor. While others may do as they wish in this regard, I propose that there are really two things at Nā Pōhaku that will be special to our memory of Jim: 1) his favoirite kou tree—the one that out-performed all others that he planted—located on the slope over-looking Kawai Nui Marsh; and 2) the NPEG "picnic" area where Jim held court every Saturday around noon. Cheers to one with tomato juice; we do sorely miss your presence.
• Pictures of Jim and another volunteer on Jim's first day (August 2001) as a volunteer at Nā Pōhaku—working in the marsh.
Jim in his chair at one of many lunch hour soirees.